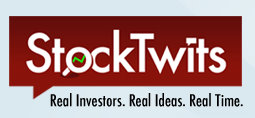 StockTwits Better Than Yahoo Finance?
Here's a term you should probably start familiarizing yourself with – "The Real Time Web".   One example of how relevant real time data – like what is delivered from Twitter – is StockTwit.com.  StockTwit just raised $3 million in new funding from VC firms Foundry Group and True Ventures, and with tens of thousands of users, StockTwits' success is a testament to the power of the real-time web, where users customize their experience rather than simply accept destinations as-is.
From Minyanville.com
"StockTwits piggybacks Twitter by organizing tweets containing specific stock-related tags. Stick a dollar sign in front of a stock symbol and StockTwits will pick it up and categorize it. For example, if you're talking about Google (GOOG), put $GOOG in your message and StockTwits will pay attention. For tweets not containing a ticker symbol, just use two dollar signs in a row.
This system works extremely well. It's pretty easy for users to put together a personalized news stream about the stocks you care about. If all you want to hear about is Hewlett-Packard (HPQ) and Green Mountain Coffee (GMCR), you can do just that with a few clicks. Bloggers and writers also benefit by gaining highly-targeted audiences for their work.
The end product is a real-time, stream-of-consciousness flavored rival to Yahoo (YHOO) Finance, the dominant online financial news and information aggregator. While Yahoo has obviously had some execution and strategy missteps in recent years, Yahoo Finance is one of the best properties on the web. Google Finance doesn't even come close.
Where they differ is the flavor of content. The YF news feed is dominated by major business news providers like Reuters, BusinessWeek, Minyanville, and TheStreet.com (TSCM), while StockTwits has a heavier concentration of opinionated bloggers and market personalities that keep things spicier. As its name would imply, StockTwits is also much more stock-centric than YF, which has a heavy dose of personal-finance content."