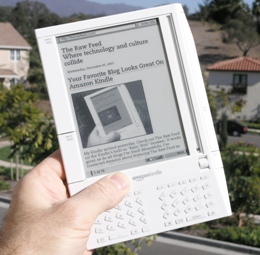 Amazon's Kindle is a great way for you to get high quality content, whenever and wherever you are with your Kindle device.   One of my favorite categories is the Kindle blog section, and specifically the Internet and Technology section.
The Internet and Technology section of Kindle blogs gives you the best of the best content on the web for anything relating to technology and the Internet, and the monthly subscriptions are super cheap – around $1.99 per month at the most.  So I've decided to put together the top 10 Internet and Technology blogs on Kindle so that you can see what tech blogs people are currently finding the most interesting.
Top 10 Tech Blogs on Kindle
1)  I Love My Kindle
I Love My Kindle will bring you a unique blend of Kindle tips, news, and humor! Bufo Calvin is a well-known member of the Kindle community, and author of several titles in the Kindle store.
Kindle blogs are fully downloaded onto your Kindle so you can read them even when you're not wirelessly connected. And unlike RSS readers which often only provide headlines, blogs on Kindle give you full text content and images, and are updated wirelessly throughout the day.
And ironically enough, I Love My Kindle is not only #1 in Internet & Technology, but also #1 in Arts & Entertainment and Humor & Satire.
2)  TechCrunch
TechCrunch is a group-edited blog that is dedicated to obsessively profiling and reviewing new and existing Internet products and companies that are making a commericial and/or cultural impact. Business Week readers and CNet have voted TechCrunch one of the top tech blogs.
TechCrunch is also one of the most popular blogs on the web.  Many investors read TechCrunch to gain insight into new tech startups.
3)  A Kindle World Blog
A Kinle World Blog provides daily news and opinion that will explore the capabilities of the Kindle device with its immediate access to the entire global Net, through its 24/7 wireless feature. There will be ongoing tutorials and guides for little-known features and latest information on the Kindle models and its competitors. Questions are welcome.
4)  Gizmodo
Gizmodo is a web magazine dedicated to everything related to gadgets, gizmos, and cutting-edge consumer electronics. Its influential audience stops by frequently to check out the latest news, reviews and recommendations for products including laptops, cell phones, PDAs, digital cameras, home entertainment and more.
5)  All Things Digital
All Things Digital is a blog devoted to news, analysis and opinion on technology, the Internet and media. Sassy, but also well sourced and accurate, All Things Digital offers lots of opinion and analysis, with plenty of fact as well.
6)  iPhone News – Software, Applications, Gadgets
iPhone and iPod apps are being made everyday. Get latest information on iPhone and iPod touch softwares.
7)  Ars Technica
Ars Technica offers news and reviews, analysis of technology trends, and expert advice on topics ranging from the most fundamental aspects of technology to the many ways technology is helping us enjoy our world.
8)  Gossip Center
GossipCenter is the leading entertainment news website on the Internet, and updates 24/7 to bring you the latest gossip as it happens. Have GossipCenter sent to your Kindle so that you always know the latest dish, regardless of wherever you may be!
9)  The Kindle Reader
The Kindle Reader – written by a librarian and bibliophile, The Kindle Reader helps you answer that question, featuring regular posts like Genre Watch (the newest mystery, sci-fi, romance, fantasy and western fiction for your Kindle), E-books on the Cheap (a weekly selection of free e-books from a variety of sources), Kindle books reviewed in Entertainment Weekly magazine, and reviews of historical fiction, biographies, and nonfiction.
10)  Life Hacker
Lifehacker makes getting things done easy and fun. Delving deep into the technoweb, Lifehacker brings back simple and totally life-altering tips and tricks for managing your information and time. Editor Gina Trapani, coder and computer expert, saucily deciphers the latest in personal productivity technology and reveals the million ways hardware and software can improve our busy lives. At this wild moment in the development of human-oriented technology, Lifehacker is your own personal early adopter, here to guide you through the onslaught of the new. The world is full of fascinating problems waiting to be solved: Lifehacker can help.
And there you go!  The current top 10 blogs on Kindle from the Internet & Technology section.