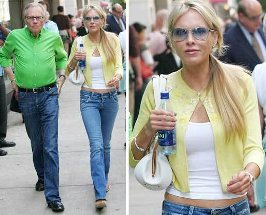 Shannon Engemann Denies Affair With Larry King
Ever since yesterday when the news broke out that Larry King and his wife Shawn Southwick were getting a divorce, speculation has been buzzing about a possible affair between Larry King and Shawn Southwick's sister Shannon Engemann.
Shannon Engemann is the sister of Shawn Southwick and has been seen multiple times with Larry King.
However, Shannon Engemann emphatically denies the rumors that her and Larry King have been having an affair.
From an interview with TMZ,
Shannon says, "This is so ludicrous.  She's singling me out, but Larry has been nothing but generous to our entire family, including me."
Shannon says it's true … Larry has given her gifts for Xmas and her birthday.  Shannon was not specific, but Shawn reportedly believes Larry bought Shannon a $160,000 car, among other things.
Shannon said, "Shawn has left me threatening messages."  After the National Enquirer published a story suggesting an affair, Shannon says, "Shawn left me a message … 'If you dare sue the Enquirer I will pull out every last receipt that proves you had an affair with Larry.'"
Shannon adds, "I'm tired for taking the rap for things.  I did not have an affair with Larry.  He's been like a father to me."
And finally, Shannon added, "I have a date tonight and I'm not going to worry about it.  I love my sister.  What's happening is not my fault."
Larry King will certainly be confronted
There is no doubt about it that considering how new this story is, you can bet that Larry King will be asked by the media to comment on these rumors about an affair with Shannon Engemann.
So far, all we've heard is the side of the story from Shannon Engemann – we have yet to hear what Larry King himself has to say about the rumors of an affair, and what is the driving force behind the divorce with Shawn Southwick.