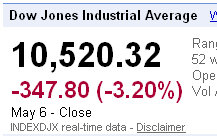 INDEXDJX:.DJI – Stock Market Recovers From 9% Plunge
The Dow Jones Industrial Average (INDEXDJX:.DJI) was able to pull out of a nose dive and ended up closing above 10,000 at 10,520.32, even though it was down sharply at -347.80 (-3.20%).
The NASDAQ was -82.65 (-3.44%) to close at 2,319.64.
And the S&P 500 was down -37.72 (-3.24%) to close at 1,128.15.
Wall Street reeled through a volatile day, with stocks closing sharply lower after recoiling from a brief plunge of nearly 9 percent. The Dow Jones Industrial Average closed down 347.80 points or 3.2 percent, and the S. & P. 500 index
dropped 37.75 points or 3.24 percent, after fears over Europe's debt crisis and computer-driven trading sparked a massive selloff. The euro slid to $1.2616 to the dollar, and investors fled to Treasuries, gold and other safe-haven
investments, according to the NY Times.
It will be interesting to hear what Jim Cramer from Madd Money has to say tonight. It will more than likely be a show with nothing but buying opportunities that are on the table for tomorrow.
I do know that with Apple stock prices down sharply today – most due to the downward pull of the overall market – Cramer sees AAPL as a buy.
The overall markets droped 9% today, testing the boundaries of 10,000 points, before it ultimately recovered to close at 10,520.32.
What are your thoughts?
So what are your thoughts about the what happened on Wall Street today?
Do you see the downward plunge today as a buying opportunity?
If so, what stocks do you like or dislike?