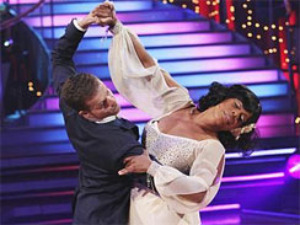 Comedian Niecy Nash is history. The celebrity was kicked to the curb on Tuesday night's "Dancing With The Stars." Olympic skater Evan Lysacek, Cincinnati Bengals football player Chad Ochocino, reporter Erin Andrew, and Pussycat Doll's Nicole Scherzinger are left to compete on the dance floor in the semifinals next week.
Who Do You Want to Win Dancing With The Stars? Take the Poll Below
Who Got Kicked Off Dancing With The Stars?
Niecy Nash and Louis Van Amstel were eliminated from the Dancing With The Stars competition, taking fifth place, but not before thanking her partner Louis, "Thank you for molding this lump of clay into something." Did you know Niecy Nash was born with the name Carol Denise Ensley in 1970? The 40-year old mother of three is best known for her role in Reno 911! and as host of Clean House. However, she failed to impress the judges on the May 11th episode and was voted off.
Dancing With The Stars Judges Scores
1st Place: Nicole Scherzinger and Derek Hough — 59/60
2nd Place: Evan Lysacek and Anna Trebunskaya — 53/60
3rd Place: Erin Andrews and Maksim Chmerkovskiy — 53/60
4th Place: Chad Ochocinco and Cheryl Burke — 45/60
5th Place: Niecy Nash and Louis Van Amstel — 43/60
Who Should Win Dancing With The Stars?online survey
Source and photo: www.cbsnews.com

//