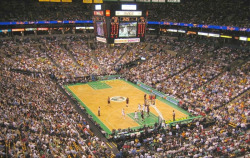 The Celtics beat the Cavaliers 94 to 85 in Game 6 of the Eastern Conference semifinal series. The game was held at TD Garden in Boston, Massachusetts. This means the Celtics advance to the conference finals to play Orlando Magic. The first of the series begins this Sunday, May 16, 2010 when the Celtics meet the Magic in Orlando.
What a difference between the Boston Red Sox and Boston Celtics this season. While the Celtics are on top of their game this year, the Red Sox are in fourth place in the 2010 American League East Standings. The only team playing worse this season is Baltimore. It's still early though, and the Red Sox have pulled out before. One can only hope.
See the Boston Celtics vs. Orlando Magic 2010 Basketball Schedule here.
For a play-by-play account of Game 6, go to ESPN.com.
Sources: espn.go.com; wikimedia.org

//