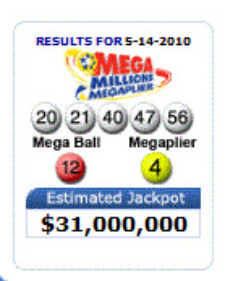 The estimated Mega Millions jackpot for Friday's drawing was up to $31 million dollars with a cash option of $19.5 Million. The winning numbers are 20, 21, 40, 47, 56, the Mega Ball was 12, and the Megaplier was 4. Although the Tuesday May 11th drawing didn't produce any jackpot winners, there were a total of 4 $250,000 winners and 24 $10,000 winners.
The last big Mega Millions jackpot went to California winners', Jacki and Gilbert Cisneros, who won $266,000,000 on May 4, 2010. See a photo slideshow and video here: Mega Millions California Lottery Winner Comes Out of Hiding $266 Million Dollars Richer.
The most recent Powerball winner matched all 6 numbers on April 21, 2010 to win a whopping $258.5 million dollars. See pictures of the lucky winner here: Missouri Powerball Winner Chris Shaw Scores $258M Jackpot, has BIG Disney World Plans.

//