Android News: Kindle for Android Coming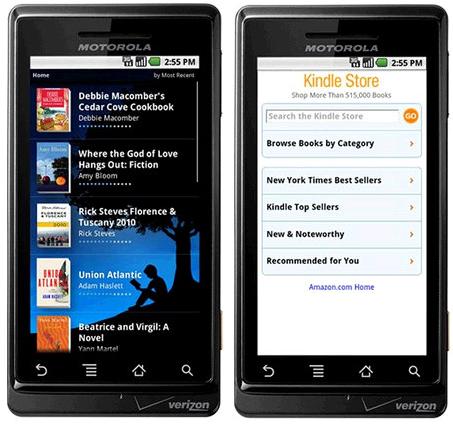 For those of you who are walking around with an Android powered device, AND are also fans Amazon's Kindle ebook reader, your life is about to get a whole lot better!
Amazon announced in a press release yesterday that the free Kindle ebook reader – already out for Mac, PC, Blackberry, and iDevices – will be coming to Android powered devices late in the summer of 2010.  Android users with 1.6 and above (with SD card) will then be able to access the more than half million books in the Kindle store.
Like the other apps, Kindle for Android features Whispersync to keep your bookmarks, last page read, notes, and highlights synchronized across all your Kindle-enabled devices. Expect to see this demonstrated at Google I/O starting tomorrow, according to Engadget.
Here's the Amazon press release announcing the Kindle for Android devices:

Introducing Kindle for Android
Free Android app for reading allows customers to enjoy over 540,000 Kindle books on Android phones; Amazon offers Kindle apps for the iPhone, iPod touch, iPad, Mac, PC, BlackBerry and, soon, Android
Amazon.com, Inc. (NASDAQ: AMZN) today announced that Kindle for Android, the free application that lets readers around the world enjoy Kindle books on their Android phones, is coming this summer. Kindle for Android enables customers to discover and read from over 540,000 books in the Kindle Store — the largest selection of the most popular books that people want to read — including New York Times Bestsellers and New Releases from $9.99. Like all Kindle apps, Kindle for Android will include Amazon's Whispersync technology, which saves and synchronizes a customer's bookmarks across their Kindle, Kindle DX, iPhone, iPod touch, iPad, PC, Mac, BlackBerry and, soon, Android, so customers always have their reading material with them and never lose their place. Kindle is the most wished for, most gifted and #1 bestselling product on Amazon.com.
"Kindle for Android is the perfect companion application for Kindle and Kindle DX owners, and is also a great way for customers to enjoy over 540,000 books in the Kindle Store even if they don't yet have a Kindle," said Jay Marine, director, Amazon Kindle. "We think customers are going to love the convenience and simplicity of having instant access to a massive selection of books from Amazon on their Droid, Nexus, Incredible and many more Android devices."
Android owners can take advantage of the features that customers love about Kindle and Kindle app experience, including:
* Search more than 540,000 books, including 96 of 110 New York Times Bestsellers, plus tens of thousands of the most popular classics for free directly from their Android device. Bestsellers such as "Backlash" by Aaron Allston, "Big Girl" by Danielle Steel, "The Immortal Life of Henrietta Lacks" by Rebecca Skloot, and "The Lost Symbol" by Dan Brown, and hundreds of thousands of other popular books are $9.99 or less in the Kindle Store
* Browse by genre or author, and take advantage of all the features that customers enjoy in the Kindle Store, including Amazon.com customer reviews, personalized recommendations and editorial reviews
* Access their library of previously purchased Kindle books stored on Amazon's servers for free
* Synchronize last page read between their Kindle, Kindle DX, iPhone, iPod touch, iPad, PC, Mac, BlackBerry and, soon, Android
* Choose from five different font sizes
* Read the beginning of books for free before they decide to buy
* Read in portrait or landscape mode, tap on either side of the screen or flick to turn pages
Customers can see a sneak peak and sign up to receive an e-mail when Kindle for Android is available at www.amazon.com/kindleforandroid.