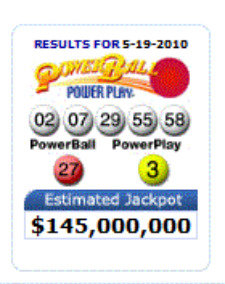 The estimated Powerball jackpot is $145,000,000. The winning Powerball numbers for May, 19, 2010 are 2, 7, 29, 55, 58, the Powerball is 27, and the PowerPlay is X 3. The cash value is $72.1 million dollars if you choose to take the prize in one lump sum.
No one matched all 6 balls for the Powerball jackpot on Saturday, May 15th drawing, raising the jackpot for another drawing. There may not have been any jackpot winners, but there were many smaller prizes awarded. In fact, 1,003,207 players across the country won more than $7.4 Million in prizes.
Chris Shaw Wins Huge Powerball Jackpot
The last big Powerball winner was Chris Shaw from Missouri. Shaw won the $258.5 million dollar jackpot on April 21, 2010.  Since then, the jackpot has been growing. If no one wins the Powerball tonight, the estimated jackpot will climb again.

Powerball numbers are drawn live each Wednesday and Saturday evening at 10:59 pm EST on CBS.  Or, the live PowerBall drawing can be viewed online at PowerBall Live, also at 10:59pm EST. The next Powerball drawing will be on Saturday, May 22nd, 2010.

//