Phoenix Suns coach Alvin Gentry left all five substitutes in the game for the first nine minutes of the 4th quarter en route to a 115-106 victory in game 4 of the western conference finals. Despite Kobe Bryant's 38 point 10 assist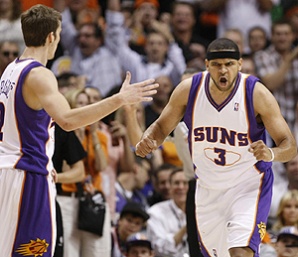 performance, The Phoenix bench outscored the Laker's bench 54-20. The Bench Mob was led by Channing Frye, but the likes of Jared Dudley and Goran Dragic also contributed a great deal. A series that once looked like a runaway after the Lakers jumped out to a 2-0 lead now has become very interesting being tied up at 2 games apiece.
The pressure is now back on L.A. as this has now turned into a best-of-three series. This would be regarded as an epic choke job if Kobe and the returning champs can't close this one out. Given their experience, L.A. should pull this one out, but don't count out the upstart Phoenix Suns.