Ah, Western North Carolina…there is so much to see and do in Asheville, NC.  If you've never visited, the top of your list should include a trip to the fabled Biltmore Estate.  Having just returned from a pre-Memorial Day visit, I am always amazed how much new territory there is to explore.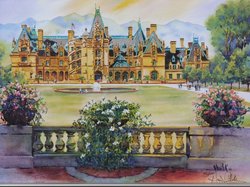 To begin, the estate has recently opened Antler Hill Village, a casual gathering place of dining, shops and historical exhibits.  Wednesday evening at the Creamery, I enjoyed a delectable scoop of butter pecan ice cream.
From there, with the Inn at Biltmore in clear view on top of Antler Hill, I ambled over to the Farm at Antler Hill Village.  The barn is truly unique; it's octagonal shape houses all kinds of nineteenth century farm tools, a black smith shop, a smoke house and old mercantile shop.  Unfortunately, I arrived an hour past these shops closing for the day, so I missed out on the craft and farm animal demonstrations.
Across the way a short distance is the Kitchen Garden, where herbs and vegetables are grown for use in Biltmore's restaurants.  There in the garden, I learned of a Native American growing tradition called "Three Sisters," combining corn, beans and squash in the same plot.  The corn grows tall for the beans to climb.  The beans replenish the soil with valuable nutrients for the corn and squash to grow. And the squash, with its broad leaves, eliminates competing plants from growing with the other sisters in that plot.
No matter how many times I visit Biltmore, I always leave more fulfilled than I arrived.  If you are unable to visit this estate, I highly recommend a book by author Howard E. Covington, Jr.,  Lady on the Hill: How Biltmore Estate Became an American Icon
.  In this tome, Mr. Covington records the life and times of the Biltmore family, specifically George W. Vanderbilt and his wife Edith, and their posterity preserving this one-of-a-kind estate for the benefit of us all.