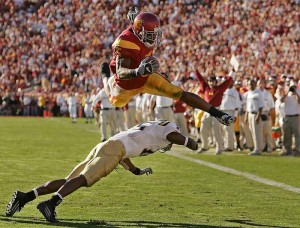 Lack of institutional control is a four word phrase that makes every NCAA athletic director cringe when they see or hear it. That moniker was bestowed upon the University of Southern California football team on Thursday after the NCAA came to the conclusion that former Heisman Trophy winner Reggie Bush received improper benefits while starring at USC. Because Reggie Bush's family allegedly lived rent free in a home for more than two years, the SC football program has to take the rap. Some sleazy sports agent in an attempt to lure Bush to sign with his company gave he and his family a lot of money. The only reason why this ever came to the fore front is because 1. Reggie went with another agent and 2. he never paid any of the money back. In his wake Reggie leaves behind a perennial top 5 program with a  two year bowl ban, 4 years of probation, loss of scholarships and USC has to forfeit the 2004 season that includes a 55-19 drubbing of Oklahoma in the National Championship game.
Some things just don't add up. If this is all just related to Reggie Bush like the NCAA says it is than how can one incident be classified as a "lack of institutional control" ? The basketball program did self impose some sanctions after it was found that superstar OJ Mayo did also receive improper benefits from  former Trojan basketball coach Tim Floyd. However, no mention at all of the Trojan basketball program can be found in the report.
In all of this, how does athletic director Mike Garrett keep his job? If somebody has to take the fall it should be him, not a bunch of 18-23 year old kids who had absolutely nothing to do with any of this. Yesterday he spoke to a group of SC boosters in San Francisco and had this to say…"As I read the decisions by the NCAA, I can read between the lines and there was nothing but envy. They wish they were all Trojans."  Well way to go Mike, those statements will definitely help the program out during appeals time!
I support Coach Pete Carroll 100% for leaving for the NFL, but it does look a little fishy to some SC die hards. They want to know why after all of the NFL offers that he has come across over the years, why Seattle and why now? It would go along way to let his fans know that his departure had nothing to do with impending sanctions. I for one don't believe so because Coach Carroll is such a positive guy that these sanctions would not have kept him down for long.This whole situation will once again spark the debate of whether or not college athletes should be paid for their duties. And all not in favor of this proposition, please don't give me that "their scholarship is their paycheck garbage". Giving these kids some substantial pocket money will help keep these slime ball agents away from star players and their football programs.