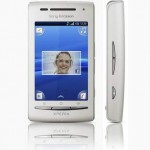 Shakira is the nickname for new mobile phones from Sony Ericsson. Shakira pictures leaked two days ago on Germany gadget site, but there is no certainty whether these products really exist or just a product concept alone.
But today, Sony Ericsson Shakira certainly comes real and will available on the market soon. Sony Ericsson Shakira designed with feminine clad in white with no angle was determined to be present in the third quarter of 2010 with estimated retail price of $260.
Sony Ericsson Shakira Review
Shakira signed in SE Xperia family with the official name Sony Ericsson Xperia X8. Operating system on Shakira is using Android 1.6 and with a user interface similar to Xperia X10 mini with a navigation menu at the corners of the screen. Fitor Timescape and Mediascape is an aggregator for various social networking and the media present as the typical features of entertainment at Sony Ericsson mobile phones.
System computation supported Processor 600 MHz, 128MB internal memory and external 2 GB (can be upgrade up to 16 GB). With Scratch-resistant 320 x 480 pixels screen (HVGA), SE Shakira also using capacitive touchscreen. Other Shakira features using 3.2MP camera, supports 3G and HSDPA, and A-GPS. Apparently Shakira doesn't only available in white, but also in dark blue, sky blue, pink and silver. Lets wait for the new Sony Ericsson Xperia X8 (Shakira) in this Q3 2010.
Sony Ericsson Xperia X8 Hands-on Video
Sony Ericsson Xperia X8 Pictures