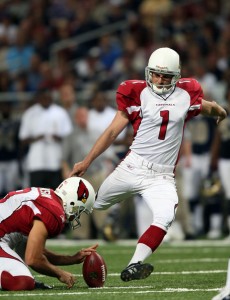 Neither the Cowboys (5-10) nor the Cardinals (5-10) will make it to the playoffs this year, but they put on an entertaining show in this Christmas Day NFL contest none-the-less. 
Dallas started slow and was down by 18 points at half time.  However, in the second half their defense really buckled down and held Arizona to only 2 field goals.  With 1:46 left in the game Dallas scored a touchdown to make the score Dallas 26 – Arizona 24.  Then Dallas left the door open when kicker David Buehler missed the extra point. 
With only 5 seconds remaining in the game and despite a last second 5 yard illegal formation penalty Arizona's kicker, Feely, makes the pressure filled 48-yard field goal to win the game.