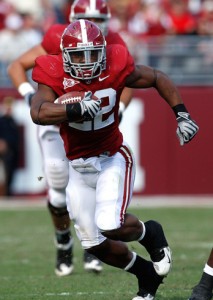 The Florida Gators defeated Penn State 37 to 24 in the Outback Bowl.  The Florida Gators have a record of 16 -0 when they block a punt, which they did in the first quarter of this game.  The difference in this game was really special teams.
Miss. State embarrassed Michigan with a 52 to 14 win in the Progressive Gator Bowl. Michigan started strong but after the first quarter had ended it was clear that a comeback was unlikely.  After this loss some heads may roll in Michigan.
Alabama rolled over Michigan State 49 to 7 in the Capitol One Bowl.  The tides offense was the Ingram show.  However it was really the defense that won this game as Alabama held Michigan State to minus 48 rushing yards.  This win gives Alabama its 32nd Bowl win which is a NCAA record. 
Florida  37              Penn St  24
Miss. State  52      Michigan  14
                                                                 Alabama  49          Michigan State  7
Other Scores Where the SEC did not show so well in recent games.
Georgia  6                     University of Central Florida  10
South Carolina  17       Florida State  26
Tennessee   27              University of North Carolina   30