Groupon broke the ice in the world of "group buying" with their highly successful daily deal marketing strategy for businesses.
The concept with Groupon is quite simple, offer one great deal per day, and set a "tipping point" – a certain number of deals need to be bought before the deal is "live" – and then flood the business with new customers… and also flood Groupon's bank account with new revenue!
This model has been hugely successful for Groupon and the nearly 500 Groupon clones that have risen up since they launched about 2 years ago.
The Problem Created
The problem that these daily deal sites have created is:
There is only 1 deal per day for customers to choose from – so you either like the current deal, or you have to wait until tomorrow to see if something you like comes available
A massive backlog of deals has developed – businesses in some markets have to wait up to 6 months to have their one deal go live
Because only one deal is available, this one business gets flooded with customers and in some cases works against the business from a "customer service" standpoint – too many customers + too many complaints about being too many customers = unhappy customers
The Solution that ListYourDeals.com is looking to offer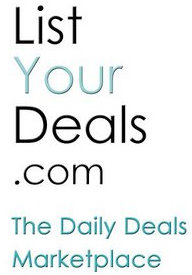 A new startup called ListYourDeals.com is potentially on the way, like a knight in shining armor, to swoop in and save the "daily deal" day.
ListYourDeals.com plans to launch an entire marketplace of daily deals – this marketplace of deals looks to offer:
Daily deals from multiple businesses in a particular city
Deals listed by categories, making it easy to browse deals you are interested in
Shoppers get to vote on deals – which means the best deals rise to the top
No more waiting for businesses to post deals
The interesting thing with ListYourDeals.com is that nothing like this currently exists.
So can a marketplace of daily deals actually be the solution that both customers, and businesses, need to bring more balance to the daily deal business model?
We'll keep you updated on this new startup to see how things unfold.
Thoughts?
You can also follow ListYourDeals.com on Facebook and Twitter.