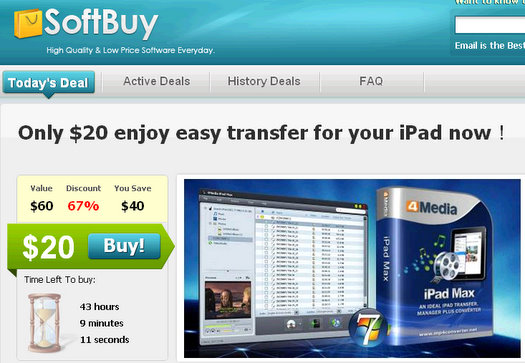 Below is a news release from Brothersoft.com about their software daily deal site called Softbuy.com.
Now I was particularly interested in this site because it told me that the daily deal movement, started by sites like Groupon, is starting to evolve.
Moving in the direction of more vertical categories, it is quite conceivable that every major vertical of products is now wide open for a daily deal site.
No longer do you need to wait for a particularly interesting deal to purchase something.
Simply find the daily deal leader in your vertical of interest, and you'll probably find the deal you've been looking for.
Here's the news release from Brothersoft.com:
Brothersoft.com Releases Group Buy – softbuy.com
January 24, 2011 – Brothersoft.com is proud to announce its first group buy softbuy.com. You can sign up to purchase software, available for windows application, game application and MAC application. Amazingly, we offer a minimum discount off 90% -70% for users.
As one of the top three most popular software download sites, Brothersoft.com has superiority in software download industry. Softbuy.com, the branch of Brothersoft.com, is keeping on releasing an excellent software every three days. Softbuy.com promises immense users, high-quality software and particularly favourable price.
Nowadays, most group buy sites are generally concentrated on cuisine, hairdressing and cultural events. Just during the last year, lots of group buy sits suddenly rushed into the the public view, such as 66 copycatting Groupons in American, the Snippa, Wowcher.co.uk of English, the CityDeal.de of Germany, and the Peixe Urbano Brazil.
However, Softbuy.com is a vertical software group purchase B2C shopping site. This significant difference from the traditional group purchase sites, allowing it to break the region limitation, widen the class of service, and enrich the logistics. We plan to release a great software without intermission at the frequency of every three days. As Softbuy.com limits the minimal number of the buyers, thus in case of losing any superexcellent purchase, you can recommend it to your friends.
– More than 500 applications
– More than 13 classifications
– More than 300 softwares vendor partners
– Available for softwares and pc games
– Available for Windows and MAC platform
– Super low value at a minimum discount off 90% -70%
Advanced SystemCare PRO, the first production on Softbuy.com, is an one-click free system tool for PC tune-up and maintenance. It provides an always-on, automated, all-in-one PC Healthcare Service with anti-spyware, privacy protection, performance tune-ups, and system cleaning capabilities.
This powerful and award-winning precision tool fixes stubborn errors, cleans out clutter, optimizes internet and download speeds, ensures personal security and maintains maximum computer performance automatically.
For more details, please refer to www.softbuy.com