I'm starting to wonder if all the Groupon clones that have been flooding the market over the past year aren't starting to take their toll on Groupon's bottom line?
Even though Groupon founder Andrew Mason said he isn't worried about all the clones "because Groupon has the largest network, the best relationships with vendors, and the most influence," the revenue numbers coming in for February aren't helping his argument any.
Take a look at the chart below from BI: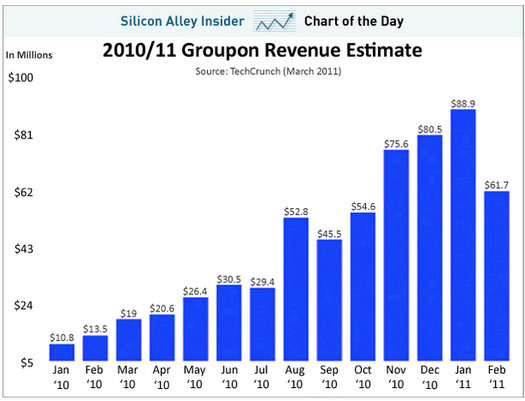 Can you call this an anomoly?
Perhaps Groupon had a bad month and growth will continue to explode in the following months.
Or perhaps there's something much deeper in the works here.
I don't want to start listing all of the negatives about Groupon here because I do believe consumers have saved a ton of money, and vendors have generated a lot of business, because of Groupon.
However, I'm equally curious as to why, in light of the February numbers, that Groupon's president and COO (Chief Operating Officer) has abruptly left the company – this according to a memo from Andrew Mason to employees just yesterday.
Why this sudden departure of the COO from Groupon?
Why the dramatic drop in revenue in February?
Thoughts?