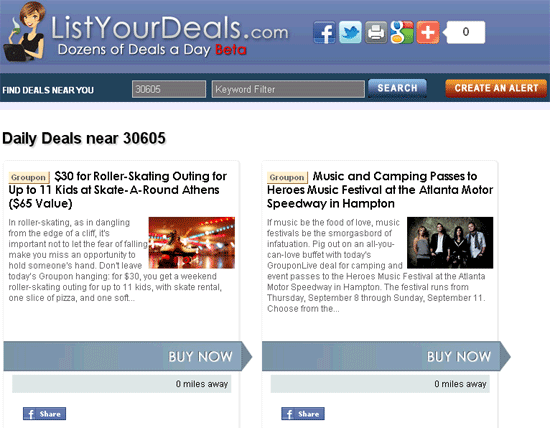 Let me ask you, could you stand subscribing your email to one more daily deal site?
After all, isn't 5 or more deal of the day emails enough already?
If you're starting to grow weary of the deal-of-the-day emails in your inbox, don't worry, you're not alone.  With new daily deal sites popping up each day, the opportunities to subscribe your email to receive that one great deal a day is abundant.
And the traffic jam of emails occurs directly in your inbox.
ListYourDeals.com – The First Daily Deal Search Engine
This was bound to happen sooner or later, but because of the number of daily deal sites that are emerging each day, a daily deal search engine seems to be the next logical step.
And that's exactly what you get with ListYourDeals.com.
ListYourDeals.com is the first daily deal search engine that allows you to search for daily deals by zip code, and in one single format, see exactly what deals are happening in your area.
The search results are highly relevant due to the fact that only live deals make their way to the index.
It's simple really – just enter your zip code, add a keyword phrase if you like (i.e. restaurants), and hit "search".
You'll instantly be given daily deals that are ranked according to your location with the closest deals appearing first, and furthest deals at the end.
And of course, a new application wouldn't really be a new these days without a mobile version.
ListYourDeals.com has a mobile version of the site that is compatible on all mobile devices such as the iPhone, iPad, Blackberry, Android devices, Kindle, and any other mobile device you can think of.
Instead of building a separate app for each device, the folks at ListYourDeals decided to build one mobile version of the site that is compatible with all mobile devices.
The ListYourDeals mobile site has the power of being location aware.  Enter listyourdeals.com into your mobile device, use your location aware feature, and instantly the mobile site will give you the best daily deals based on your location.
Again, the daily deal search engine was the obvious next step in the progression of the daily deal marketplace.  And it looks like ListYourDeals.com is setting the trend in this new daily deal marketspace.