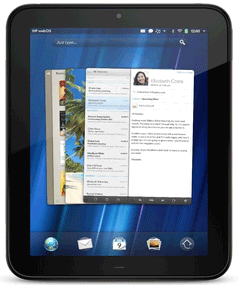 It's all coming together now.  Over the weekend, HP dropped the price of the TouchPad by $100 when you ordered through their website.  Obviously HP wanted to clear out the inventory of the somewhat popular HP TouchPad tablet.
But today, with the news breaking that the HP TouchPad 4G is available for pre order on Amazon.com, it's all making sense now why the weekend blowout special.
What's interesting is it's not readily noticeable that the new TouchPad is actually 4G.  It's not until you get down into the product description, down toward the middle of the page, that you actually find out you're pre-ordering a 4G version.
Anyway, the TouchPad 4G is available for pre-order for $699.99 and will be available on AT&T's HSPA+ network.  If you purchase the tablet through AT&T, you'll more than likely see a dramatic cut in price from the $699 figure.
Pre order the HP TouchPad FB354UA#ABA Tablet Computer – Gloss Black
Product Features
4G wireless broadband with data service contract sold separately
Brilliant 9.7-inch diagonal LED backlit multi-touch display
Seamless multitasking with HP web OS 3.0 and essential productivity apps
Exclusive Beats Audio for studio-quality sound
Cases and Expandability
Size (LWH): 0.54 inches, 7.48 inches, 9.45 inches
Weight: 1.6 pounds