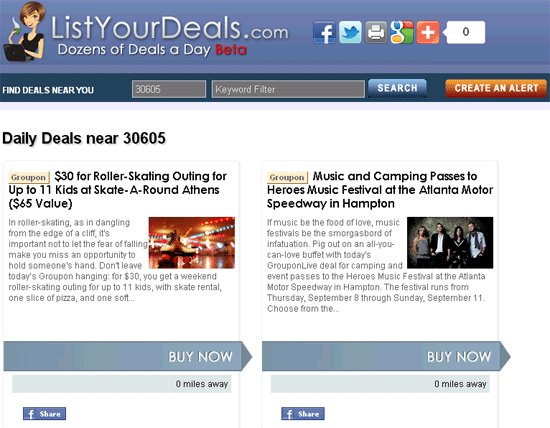 The daily deal marketplace has grown exponential over the past few years.  It's hard to believe that only two or three years ago Groupon didn't even exist.  And today, Groupon is staring down the barrel of close to a $1 billion IPO.  And looking out across the daily deal spectrum, it seems new deal sites are popping up every day.
According to Yipit, there are 521 daily deal sites throughout the United States (as of May 2011), and these are only the ones that are easy to find online.  This number doesn't account for the army of deal sites that are just getting started and still relatively unknown.
For consumers, engaging with a daily deal site used to be pleasurable experience.  You'd enter your email to receive one deal a day, you'd see if that deal is appealing to you or not, and if so you'd make a purchase.  Nice; clean; easy.
The problem is that today, you more than likely are getting bombarded with daily deal emails from multiple daily deal sites.  This is jamming up your inbox and overtaking your precious time each day just to weed through them all.
The Daily Deal Search Engine
With so many daily deal sites, and so many incoming emails each day, it seems only logical that the next iteration in the daily deal marketplace is the daily deal search engine.  From one search bar, enter your location (like your zip code), and instantly browse daily deals from multiple daily deal sites.
ListYourDeals.com
This problem is exactly what the new daily deal search engine ListYourDeals.com looks to solve.
With ListYourDeals.com, all you have to do is enter your zip code, and then instantly see deals that are in your neighborhood, or right next door.  The deals are sorted from closest to furthest away so that you can always see the deals that are nearby first.
ListYourDeals.com instantly solves the problem of "too many deal sites" and "too many emails".  From one application, you can search, browse, and purchase deals.
Mobile Daily Deal Search Engine
ListYourDeals.com is also has a mobile version of the site available.  The mobile version of ListYourDeals is compatible with nearly every mobile device on the market – iPad, iPhone, Blackberry, Treo, and all Android smartphones and tablets.
You don't need an app to get deals on your mobile device.  Simply load "listyourdeals.com" (without quotes) from your mobile browser, select to use your location, and you'll instantly get deals that are closest to you.
ListYourDeals.com is the perfect solution to instantly search daily deals.  And in the world of "too many deal sites" and "too many emails", this type of site makes perfect sense.