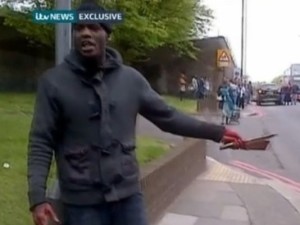 There are reports of a terrorist attack in London, where two men confronted a soldier on the street and killed him with a machete.  There are unconfirmed reports that the man was beheaded, others claim he was stabbed in the head.
One of the attackers looked directly into one camera from an onlooker recording with their phone to deliver a statement filled with jihadist rhetoric.
"We swear by Almighty Allah we will never stop fighting you," the attacker said. "The only reasons we have done this is because Muslims are dying every day. This British soldier is an eye for an eye a tooth for tooth. We apologize that women had to see this today but in our lands our women have to see the same. You people will never be safe. Remove your government. They don't care about you."
A number of weapons, including a gun, knives and a machete, were seized at the scene.
London Machete Attack Video