Derek Medina, a Florida resident, shot his wife several times and posted a picture of her dead body on Facebook. Allegedly, the picture was accompanied by a note in which he said he shot his wife and that he was probably going to jail or getting the death sentence. He also said he was sorry and that he loved his friends, telling them that the shooting was a response to the abuse he was receiving from his wife.

The gruesome incident took place on the 11th of August, just after Medina posted a picture of him, his wife and their 10-year-old daughter smiling at a marina. He didn't call the police after the shooting took place. Instead, he went over to his parents, probably to tell them what had happened and only afterwards went to a police station where he confessed his crime. When police arrived that the house, they also found the 10-year-old daughter inside, apparently unharmed.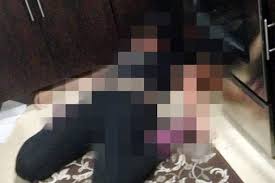 Medina told the police that he and Jennifer Alfonso (his wife) were fighting that day. He took out the gun, threatened her, but didn't use it then. She told him that she was going to leave him, so he followed her. Alfonso supposedly started hitting Medina repeatedly, so he took out the gun again. In response, his wife took a knife which he managed to wrestle out of her hands. She started hitting him again and then he shot her multiple times. After that, he took the picture of the blood-stained body and posted it on Facebook, along with the aforementioned note. Friends were quick to comment, asking what had happened. More than 170 people shared the original photo before Facebook got the reports and took it down, shutting down the accounts of Medina and Alfonso.