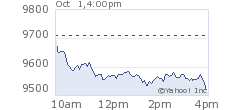 No one can deny the volatility in the stock market.
And after some modest gains in the market over the past month of so, today the dow plunged and hit bottom at -203 points.
The Dow Jones Industrial Average lost 203 points, or 2.1 percent — it's worst decline since July 2, which was before the summer rally began. The S&P 500 fell 2.6 percent and the Nasdaq dropped 3.1 percent.
And what's the likely culprit for this loss in the stock market today?  I can sum it all up in one word:  JOBS
The market could obviously care less that housing and construction has posted somewhat encouraging gains.  And also the market could care less that pending home sales jumped 6.4 percent in August, the seventh straight month of gains.
None of that matters when compared to the all mighty job market in the US.
September jobs report is due out tomorrow before the bell, so I'm going to make it a point to post an update right here on the market's reaction to these jobless claims and jobs numbers.