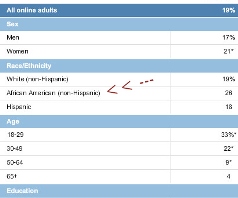 Perhaps a first of its kind research study shows that Twitter use is more popular among African-Americans than any other race or ethnicity.  This research was performed, and results delivered by, the Pew Research Center.
The research found that 26 percent of Twitter users are Black, which indicates the 'digital divide' is closing.
The divide refers to the gap of information technology available to minority communities compared to Whites due to economic standing.
See The Chart Below