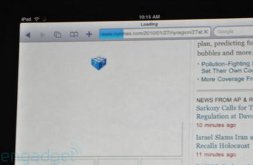 We aren't even 3 full days into the introduction of the Apple iPad, and already the Apple is facing criticism, bleak reviews, and perhaps even litigation.  Does all of this make sense, especially with the fact that the iPad was referred to by Steve Jobs (founder and CEO of Apple) as "the most important thing I've ever done!"  Here are 2 major obstacles and criticisms facing Apple and the iPad.
First, Apple is getting ripped by Adobe for not supporting flash (OUCH!!!)  That's a huge mistake, especially since the newly released Google Phone "Nexus One" supports flash, and it's a mobile device.
Here's what Adobe had to say about the iPad not supporting flash:
"It looks like Apple is continuing to impose restrictions on their devices that limit both content publishers and consumers. Unlike many other ebook readers using the ePub file format, consumers will not be able to access ePub content with Apple's DRM technology on devices made by other manufacturers.  And without Flash support, iPad users will not be able to access the full range of web content, including over 70% of games and 75% of video on the web.
If I want to use the iPad to connect to Disney,  Hulu,  Miniclip,  Farmville,  ESPN, Kongregate, or JibJab— not to mention the millions of other sites on the web — I'll be out of luck."
Next, Apple is faced with harsh criticism and potential legal action against the name iPad.  Apparently, Fujitsu, which applied for an iPad trademark in 2003, is claiming first dibs on the name "iPad".  This is certainly setting up a fight with Apple over the name of the new tablet device that Apple plans to sell starting in March.
Finally, the Huffington Post wrote up a semi-negative review of the 13 things you need to know about the iPad:
No multi-tasking
iBooks (this might actually be one of the better features of the iPad)
No camera
No removable battery (but 10 hours of battery life)
WiFi & 3G with AT&T
No GPS
Multi-touch display
News navigation (flip through pages like a real paper)
Slim and trim hardware
Standard sized touch keyboard inputs
NO FLASH (this is a big deal)
Apps (from iTunes app store)
Movies, TV, videos (and YouTube)