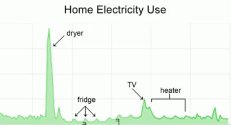 Some people might say that Google is spread too thin!  I mean, after all they pretty much have their hands in anything and everything to do with the web.  But just when you think that Google can't possibly put more on their plate, here's a bit a news for you that may come a shock.
Google has received federal approval to buy and sell energy on the open market.
According to ITWorld.com, Google applied for the authorization last December through a wholly owned subsidiary called Google Energy. The U.S. Federal Energy Regulatory Commission (FERC) approved its application Thursday, granting Google "market-based rate authorization," or the authority to buy and sell energy on a wholesale basis.
"We made this filing so we can have more flexibility in procuring power for Google's own operations, including our data centers," Google spokeswoman Niki Fenwick said via e-mail.
Data centers are big consumers of energy and Google operates several large facilities around the world — it hasn't disclosed exactly how many. That makes ensuring a steady supply of affordable energy critical to running its business.
But more than just entering the energy markets for their data centers, I believe that Google sees energy as a source of data that can provide valuable insights for consumers.
For example, Google PowerMeter product allows consumers to analyze, in detail, the energy consumption around the home.  This data analysis will allow homeowners to better allocate energy resources, and make improvements in efficiency where needed.
Here's a quick video on Google PowerMeter: