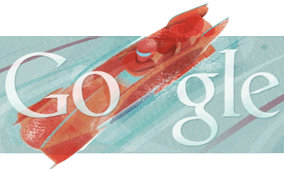 Today is February 21st, 2010.  We are now entering into the 10 day of the 2010 Winter Olympic Games.
Google is continuing is celebration of the Olympic games with their Google Olympic logo series.  And today Google is featuring the bob sled competition.
With today's Google Olympic logo, they are using the color red.  Red highlights in the Google Olympic logo series has only been used twice before – on day 3 for figure skating, and on day 5 for curling.
Here's the Google Olympic Logo day 10: