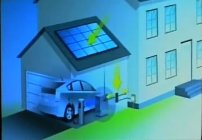 Bloom Energy Box Launch Press Conference
I wrote the other day about the coverage of Bloom Energy Box who was leading the way in Silicon Valley in new energy technology.  Well, we now have breaking news that The Bloom Box product launched today to the praises of representatives from major companies and officials including Gov. Arnold Schwarzenegger.
Here's the video of the Bloom Box Launch Press Conference:
From the video text:
The energy machine known as the "Bloom Box" was formally introduced to the public at eBay's headquarters in San Jose, Calif. Founder and CEO K.R. Sridhar addressed the audience.