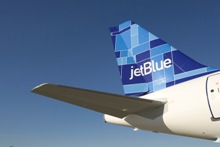 From Allison Busacca:  New York Times
In celebration of JetBlue's 10th anniversary, the airline is offering $10 fares on all remaining seats between Kennedy Airport in New York and the airline's first 10 destinations. Travel must be booked online by midnight tonight, Central Time, for travel tomorrow or Wednesday, March 9 or 10.
Jet Blue $10 Flights:
Keep in mind: the $10 fares are only for the departing flight. The return flight is normally priced. Anniversary fares are available between J.F.K. and:
Fort Lauderdale, Fla.
Buffalo, N.Y.
Tampa, Fla.
Orlando, Fla.
Rochester, N.Y.
Oakland, Calif.
Burlington, Vt.
West Palm Beach, Fla.
Salt Lake City, Utah
Fort Myers, Fla.