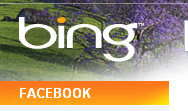 Bing.com just showed me how to call Facebook!
Who would've thought that you could actually call Facebook?  I about fell out of my chair when I went to Bing.com, searched "Facebook", and then saw their number right there in front of me to call.
The number to call Facebook is 650-543-4800.
Here's how I discovered the number to call Facebook:
I checked my Google Analytics and saw that traffic was coming to my site from Bing (Microsoft's Bing search engine at Bing.com) and the phrase that was sending traffic from Bing was "Facebook".
So I went to Bing and searched "Facebook" just to see what's up and hopefully find out how the traffic was flowing to my site.
But what I saw was this: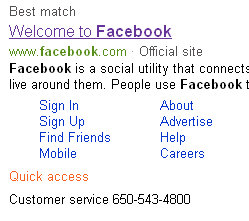 Notice the "Customer service" number.
And wow – I just thought that was the weirdest thing in the world!
I never expected to see a customer service number for Facebook.
I have to admit – today, I just acquired a new found respect for Bing.