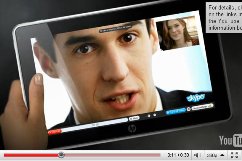 Are we looking at a potential iPad killer in the HP Slate?
One thing is for sure: the HP Slate appears to have some great features that the iPad lacks. Regardless whether or not the HP Slate is an iPad killer, which it probably isn't, it can still pick up substantial market share from its many diverse features.
The main features that the HP Slate has that the iPad lacks are video and still digital photography capabilities. Why the iPad didn't release with these features is as mysterious to me as to why the iPad launched without 3G. Apple should have taken its lessons learned from the iPhone and applied them immediately to the iPad.
So along with the HP Slate being able to capture video and digital photography, from the looks of the video below, it can also handle two way conference calling via Skype.
Here's the HP Slate video that was released today: