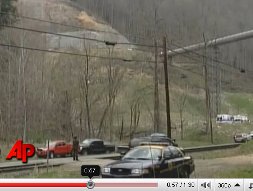 DOW JONES NEWSWIRES
25 fatalities are confirmed in the Massey Energy Co. (MEE) blast that occured at the Upper Big Branch mine in West Virginia – see video below.
Massey Energy Co. (MEE) said Tuesday that 25 miners have died in an explosion at its Upper Big Branch mine in southern West Virginia.
Four miners remain missing, while two miners have been transported to hospitals, Massey Energy said in a statement.
Rescue efforts have been suspended due to conditions underground, and will resume as soon as conditions allow, it said.
Richmond, Va.-based Massey Energy, with operations in West Virginia, Kentucky and Virginia, is the largest coal producer in Central Appalachia it said.
Here's a news clip on the Upper Big Branch blast: