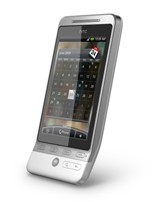 Sprint HTC Hero Android 2.1 Update Leaked
Rumors have been flying around the web about Spring releasing an official Android 2.1 upgrade for their HTC Hero mobile phone.
The dates for the Android 2.1 upgrade for the Spring HTC Hero have been speculated to be either on April 29th, and others simply by the end of April.
But according to BlogsDNA.com, hackers at XDA Developers forum have leaked a Sprint HTC Hero test ROM marked:
RUU_Hero_C_Sprint_2.20.651.1_signed_test
The "RUU" stands for Radio Unit Update, and is a common package that HTC phones of all kinds use, from Windows Mobile Phones to Android Roms.
Without a doubt, the remaining days in the month of April building up to be full of high profile mobile phone announcements.
Expected this month (April) are the HTC Incredible and Nexus One at Verizon, and now this, the Sprint HTC Hero Android 2.1 upgrade.
Rumors were also spreading about a possible iPhone / Verizon deal being announced.
We've already had the iPhone OS 4.0 announcement.
And of course, I would be remiss to leave out the iPad announcement from Apple.
Anything I've missed?