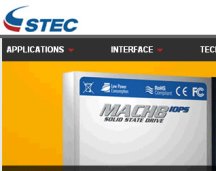 NASDAQ:STEC – STEC Stock Price Up 15% on Thursday
STEC, Inc. stock price went soaring on Thursday after a long spell of plummeting prices.
Investors seemed bullish with their expectations on the demand of flash memory drives for corporate and industrial clients and uses.
The stock (NASDAQ:STEC) closed up 15% to a market value of $690 million.
This buying pattern by investors is a massive change from the past eight months.
STEC shares have plummet over concerns about the competition and slowing sales of STEC's drives that use flash memerory chips instead of spinning disks to store huge amounts of data for banks and retailers.
ASDAQ:STEC – STEC Stock Price Up 15% on Thursday