Tiki & Ginny Barber Divorce Over Mistress Traci Lynn Johnson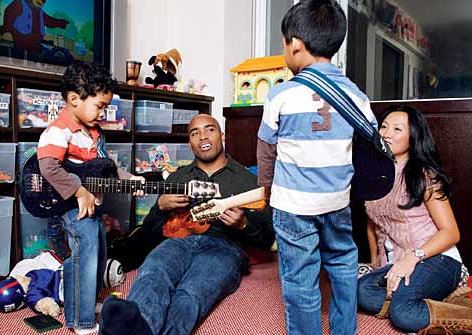 There are new updates hitting the web today that Tiki Barbers wife – who is pregnant with Tiki Barber's twins – has officially filed for divorce in divorce in Manhattan Supreme Court, citing "adultery."
Tiki Barber's NBC Job
Despite rumors that Tiki Barber has been fired from NBC, along with the reports about Ginny Barber filing for divorce are reports that NBC is not going to fire Tiki Barber and they will keep him in place at his supposedly high paying job.
Traci Lynn Johnson – Tiki Barbers Mistress
Meanwhile, hanging out in the wings of all this train wreck is Traci Lynn Johnson – an NBC intern who became Tiki Barber's mistress.
I don't really know what to say about her because she isn't really part of the conversation or the news that is happening today. Other than, Traci Lynn Johnson is the woman behind the Tiki Barber and Ginny Barber divorce.
Ginny Barbers pregnant with twins
According to Ginny Barber, who is confined to her bed in her apartment, while Tiki is out and around town with his mistress, "There have not been any complications, but her doctor said it's safer for her to stay in her home and stay in her bed," said a source close to the matter. She's a small woman and she's very pregnant. Aside from visits to her doctor, she's confined to her apartment."
According to a source close to Ginny Barber, "All she wants to do is make sure her kids are taken care of… Suffice it to say she wouldn't have had to file for divorce if the negotiations had produced an agreement."
So what do you think?
So what are your thoughts about this whole Tiki Barber, mistress Traci Lynn Johnson, and now Ginny Barber filing for divorce?