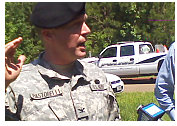 Redstone Arsenal Explosion, 2 Injured – None Dead
Redstone Arsenal Army Base is reporting that an explosion occurred on the base and that 2 people have been injured but none have been killed.
Deputy Public Affairs Officer Kimberly Henry stated that one of the injured had to be airlifted to the nearest hospital for treatment in Birmingham.
The other injured individual was flown to a hospital in Huntsville, Alabama.
The explosion occurred today, Wednesday morning, in a building that handles aviation and missile testing equipment.
The statement said there were no fatalities and that all employees in the area have been accounted for. A county official had reported earlier that one person was killed. There was no immediate word on what caused the explosion.
[source: AP]