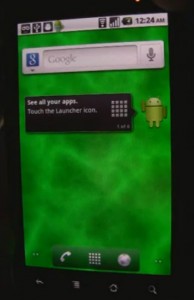 Android 2.2 & Flash running on the Nexus One
Adobe evangelist Ryan Stewart showed off Flash 10.1 on his Nexus One, Adobe also gave their employees Nexus Ones. And according to the NewYork Times Flash 10.1 is tied to Android 2.2 operating system. Judging by the home screen at the end of the video it seems to appear that Ryan Stewart's Nexus One is running Android 2.2.
Ryan Stewart also shows on his Nexus One how the Nexus One handles various Flash enabled websites.
The Nexus One handles the sites very well with no lag going from one Flash website to the next.  He show's how the Nexus One handles Flash embedded video on a sites & how it handles Flash web based games.  And according to a tweet on Twitter from Justin Mattson that Froyo statue has arrived at the Google Office, which means that Android 2.2 is on the verge of being released.
Source: Digital Back Country
Josh Uhlemeyer
Former Author of Mobile News Now.
Twitter:http://www.twitter.com/joshuhl