HTC Trying To Stop Apple from Selling iPhone, iPad in U.S.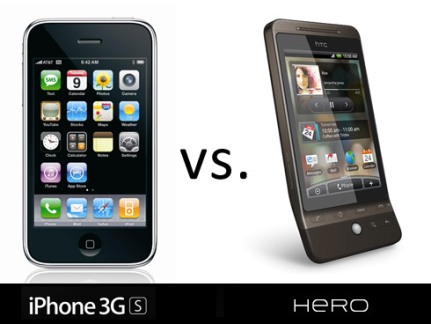 May 13 (Bloomberg) — HTC Corp., a Taiwan-based maker of mobile phones that run Google Inc.'s Android operating system, fired back at Apple Inc. with a patent-infringement complaint that seeks to halt U.S. imports of the iPhone, iPad and iPod.
The complaint with the U.S. International Trade Commission in Washington was filed yesterday, less than three months after Apple said HTC's phones that run on Android violate five of its patents, petitioning the agency to block U.S. imports.
"Let's face it, suits beget counter suits," said Charlie Wolf, an analyst with Needham & Co. in New York. "I can't imagine that HTC has any patents that Apple is violating. I think it's a ploy to slow the settlement process."
HTC, which is also the largest maker of phones that run on Microsoft Corp.'s Windows operating systems, claims Apple is infringing three patents related to telephone directories and two for power management. The Taoyuan, Taiwan-based company, which has a 4.8 percent share of the global smartphone market that trails Apple's 16.1 percent, has raised its profile in the past year with its partnership with Google.
"The industry should be driven by healthy competition and innovation that offer consumers the best, most accessible mobile experiences possible," Jason Mackenzie, vice president of HTC's North American operations, said in the statement. "We are taking this action against Apple to protect our intellectual property, our industry partners, and most importantly our customers that use HTC phones."
Credible Threat
Two of the patents, issued in 2006 and in May 2010, are related to power management, according to the complaint.
The three others are connected to a 1992 patent application and would have been acquired by HTC, which wasn't founded until 1997. Those three patents relate to hardware and software "used to implement telephone directories within mobile telephone systems," according to the complaint.
One of the telephone-directory patents was asserted by a Canadian company called GEZ Microsystems Inc. against Samsung Electronics Co. and Sprint Corp. The complaint was filed in June 2003 and dismissed the following September, according to the court docket.
Whether HTC can use the patents to drive a settlement will depend on their quality, said Rob Enderle, president and principal analyst at consultant Enderle Group in San Jose, California.
"When you execute this kind of defense, it's to drive the two parties to each other for a cross license, but you have to have a credible threat," Enderle said in a telephone interview. "If Apple laughs them off, it's hard to get them to the table."
'Original Technology'
According to the complaint, about $2 billion of HTC phones and other devices were sold in the U.S. last year. The company said it makes "extensive use" of the patents in its own products, including the Google-branded Nexus One smartphone.
The iPhone, the bestselling smartphone in the world, along with the iPod music device and newly introduced iPad tablet computer provide the majority of Cupertino, California-based Apple's revenue. All three products are assembled in China, according to HTC's complaint.
When the company filed its ITC complaint in March, Chief Executive Officer Steve Jobs said competition in the smartphone market should be "healthy" with rivals who "create their own original technology, not steal ours."
Protecting Profits
A hearing on Apple's case against HTC is scheduled for March, with the judge's findings to be released in June 2011, according to information on the ITC's website. The ITC investigates claims of unfair trade practices, including patent infringement, and has the power to halt imports of products found to violate U.S. patents.
Andrew Pederson, a spokesman for Google, said the Mountain View, California-based company has no comment on the case.
HTC, which offers 12 models in the U.S. through nationwide carriers, last quarter posted revenue and net income that surpassed its own forecast and analyst estimates and expects record shipments and sales this quarter driven by Android-based handsets, it said April 28.
In the U.S., phones with Google's Android commanded 28 percent of the market in the first quarter, compared with 21 percent for those with Apple's operating system, according to Port Washington, New York-based NPD Group Inc. Phones with Research In Motion Ltd.'s operating system had a 36 percent market share.
Apple last fiscal year took in about $13.9 billion in revenue from the iPhone and related services, more than 30 percent of total sales, according to data compiled by Bloomberg. The company has become more aggressive in enforcing its patents against HTC and Nokia Oyj.
The Apple case against HTC is In the Matter of Certain Personal Data and Mobile Communications Devices and Related Software, 337-710, and the HTC case is In the Matter of Portable Electronic Devices, Complaint No. 2732, both U.S. International Trade Commission (Washington).
–With assistance from Greg Chang and Connie Guglielmo in San Francisco and Tim Culpan in Taipei. Editors: Romaine Bostick, Dave McCombs, Mark McCord.
To contact the reporter on this story: Susan Decker in Washington at sdecker1@bloomberg.net.
To contact the editor responsible for this story: Larry Liebert at lliebert@bloomberg.net