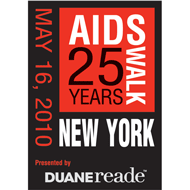 AIDS Walk NYC 2010 –  Walk and Making A Difference at NYC today! Join AIDS Walk 2010 at NYC to Celebrating 25th HIV Awareness. Today May 16, 2010 thousands people will join and walk together againts AIDS. Until now, Total 2010 Funds Raised To Date: $3,609,772. AIDS Walk NYC 2010 registration will be starting at 8.30am and the program start from 9.00am. AIDS Walk NYC 2010 sponsored by DuaneReade, Bristol-Myers Squibb, Delta, Bloomberg, Gap Inc, o2HD wcbstv and other Principal, Major, Supporting and Event Sponsors. Lets join and walk!
Walk to fight AIDS
Walk to support GMHC
Walk in memory of our friends
Walk with love for live
Walk for Our Future!
AIDS Walk New York is the world's largest HIV and AIDS fundraising event. This year AIDS Walk New York commemorates 25 years of walking and fundraising to fight HIV and AIDS. Raising over $110 million, our past and current participants know that AIDS is not over. Have you registered yet? Go to www.aidswalk.net/newyork and join us today!
AIDS Walk NYC 2010 Video