Red Bull & NASCAR.
Maybe Brian Vickers or Scott Speed should see about changing their car number to 19.2 …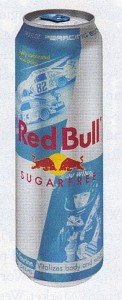 That's the can size of the Red Bull Racing Team's special edition Energy Drink.  The company says the special edition will be around at least until the end of the NASCAR season.
Red Bull, in it's fourth year of sponsorship of the racing team, is celebrating by issuing the 19.2 ounce version of the popular drink.  The Red Bull NASCAR edition will come in the regular and Sugar Free versions.
Red Bull had a successful NASCAR year in 2009 with their first win and their first appearance in NASCAR's version of the playoffs, The Chase.
The average retail price of the Energy Drink will be $4.49 per 19.2 ounce can.