Have I mentioned I really like Western North Carolina?…and so I have!  I would be remiss if I failed to mention a watercolor artist located in Asheville, NC that I admire her paintings.  Her name is Ann Vasilik and her artwork can be found at The Art of Ann Vasilik .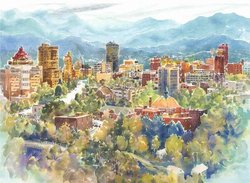 I first learned of Ann's work from an image posted to the Asheville Chamber of Commerce website back around 1998.  The image posted was Springtime in Pack Square.  Asheville is lovely in spring, and the painting brings the downtown square to life.
In addition to Asheville, Ann's work includes paintings of Waynesville, NC – site of the final shots fired in the American Civil War ; Lake Junaluska, NC – home to the  the site of the headquarters of the World Methodist Council; and Cold Mountain, NC – once part of Biltmore Estate lands sold to the United States Forest Service by Edith Vanderbilt for $5 an acre.  It is also the inspiration for the 1997 Cold Mountain: A Novel
by Charles Frazier, later adapted to the major motion picture.
If you find you like this artist's work, her website list dates for shows, workshops and events she is involved through 2010.