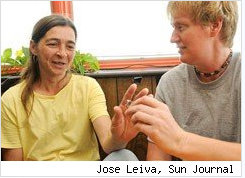 Facebook has been the facilitator of many miraculous stories. From family members reuniting, to allowing rescue workers to find someone trapped in a man hole. The extent to which Facebook allows people to interact and collaborate is something that we've probably only scratched the surface on.
Here's another great story on how Facebook brings miracles to life.
Back in 1983, Michelle Bilodeau was only a junior in high school. But one night, while she was at a local skating rink, she someone lost her class ring.
Later than evening, Angie Foster of Benton, Maine, who worked on the rink's cleaning crew as a teen and kept the ring, wearing it sometimes. I always wanted to get it back to who it belonged to," Foster told the Sun Journal of Lewiston, Maine. With just the initials MMB engraved on the ring, Foster didn't have much to go on, but she called the high school and got the Bilodeau's name. It took another 15 years and a chance search on Facebook to reunite the ring last week with its owner.
Facebook is amazing indeed. And as I said before, the extent to which Facebook will embed itself into our society and influence our lives is something that we've only just begun to see and experience.
Do you have any amazing stories where Facebook was the epicenter of your experience?
[source: WalletPop.com]