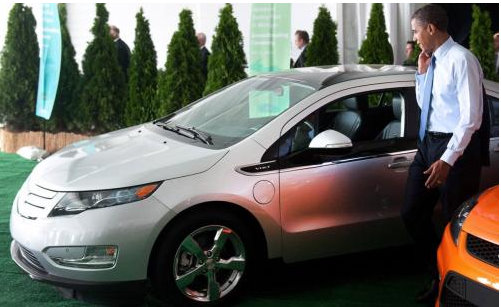 The Chevy Volt is ready to hit the streets!
GM announced today that the Chevy Volt, the industries first commercially marketed electric vehicle, is ready to hit GM lots later this year and will carry a sticker price of $41,000.
But don't let that price tag scare you off too fast.
Even though there's a $41,000 price tag, factor in the federal income tax credit (which ranges from $0 – $7500), and you are now looking at a net price of $33,500 – a much more doable price range indeed.
But the pricing gets even sweeter if you are willing to lease.
The leasing terms will be 36-months at MSRP with payments as low as $350 per month with $2,500 due at lease signing including security deposit.
The Chevy Volt's main competitor is the the Nissan Leaf. And after all is said done with the Leaf's price tag you are looking at around $20,000 (after subsidies that is).
Chevy Volt release date
A solid date has not been announced other than the Chevy Volt (as well as the Nissan Leaf) will be available later this year (2010).