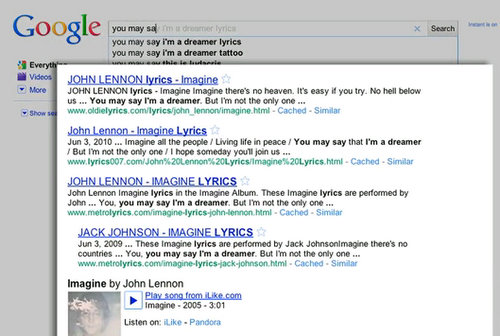 This is something I've meaning to write about all day yesterday, but unfortunately haven't had the chance. But Google's search engine is now producing real time searches that are instant, showing results as you type.
It's called Google Instant search.
You now get search results appearing below the search bar as you type (see video below).
When you have a moment, go to Google.com and just start typing into the search bar. You'll notice the results update instantaneously.
You'll also get the same suggestive search that you're used to with additional words in gray appearing as you type making suggestions for your search.
So check out Google's real time, or instant search results and let us know what you think in the comments below.
Here's are the benefits of Google's instant search, from Google themselves:
Faster Searches: By predicting your search and showing results before you finish typing, Google Instant can save 2-5 seconds per search.
Smarter Predictions: Even when you don't know exactly what you're looking for, predictions help guide your search. The top prediction is shown in grey text directly in the search box, so you can stop typing as soon as you see what you need.
Instant Results: Start typing and results appear right before your eyes. Until now, you had to type a full search term, hit return, and hope for the right results. Now results appear instantly as you type, helping you see where you're headed, every step of the way.
Here's a video about Google Instant Search: