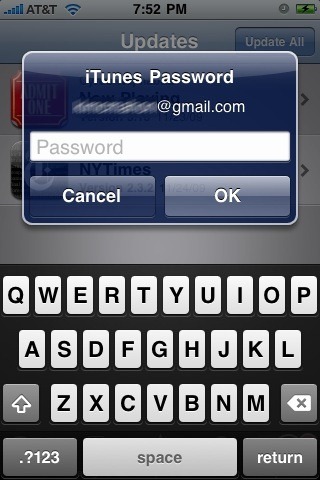 I guess I never realized how confusing it could be to access your iTunes account via your iPhone until I bought my daughter her own iPhone. Along with her iPhone, I gave her a $15 gift card for iTunes. Of course we set up her iTunes account on the computer and everything was fine until I had to login to her iTunes account on her iPhone via the iTunes App.
Obviously I must have figured it out at one point in the past because I checked my iTunes App on my iPhone and I was logged in. But I've never logged out, so apparently logging in once is all you need to do.
Anyway, I struggled to get my daughter logged into iTunes on her iPhone to be quite honest with you.
Finally, after a few frustrating minutes of tinkering around the iTunes App I finally figured it out.
And now I want to share it with you so hopefully you can avoid this frustration when you need to login to your iTunes account on your iPhone.
How to login to iTunes on your iPhone:
1) Go to your iTunes app on your iPhone
The iTunes app on your iPhone is a purple app. You can either flip through your app pages, or simply click your home button (the circle button on the bottom) and you should get a search bar > type in "itunes" > and then your purple iTunes app should pop up.
2) Tap your iTunes app
Once you find your purple iTunes app, go ahead and tap the app to open it
3) Tap on "Music"
When iTunes opens on your iPhone, there is not telling exactly what window will show. If you look along the bottom of your screen however, you will see options such as "Music" – "Videos" – etc…
Go ahead and tap the "Music" option.
4) Scroll all the way to the bottom
Once you've tapped the "Music" option, the main music page of your iTunes app will open. This might take a couple of seconds depending on the data connection your iPhone has.
Once the screen is fully loaded go ahead and scroll all the way to the bottom on the "Music" page.
5) Tap "Account"
At the very bottom of the "Music" screen on your iTunes app is your account sign in. Go ahead and tap that link and a screen will pop up asking you to either "View Account" – "Sign In / Out" – "Cancel"
And their you go – go ahead and sign in and you'll be able to proceed with purchases and iTunes account management from your iPhone.
Hope this helped!