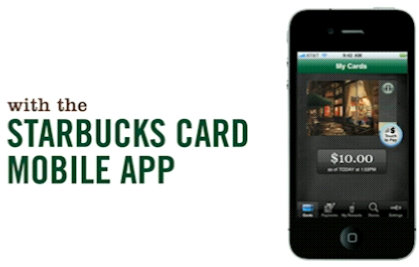 Starbucks has just updated all of their stores here in the U.S. with a new payment system that allows you to pay for your coffee by swiping your iPhone.
Starbucks announced on Wednesday that all 6800 stores here in the U.S., and the 1,000 stores within Target, are set to allow customers to pay for their coffee by swiping their mobile phones.
No longer do you need to fumble around for a credit card or cash – you can now simply pull out your iPhone, which you probably have in your hand already anyways, hold it up to the cashier and pay for your tall half-skinny half-1 percent extra hot split quad shot (two shots decaf, two shots regular) latte with whip… wow – that was painful!
According to the NYTimes, owners of BlackBerrys, iPhones or iPod Touches can use them to pay by downloading the free Starbucks Card app and holding their phones in front of a scanner at Starbucks cash registers. There is no Starbucks app for Android phones, although the company said it was working on one. The money is subtracted from their Starbucks account, which they can load with credit cards or, on iPhones, with PayPal funds.