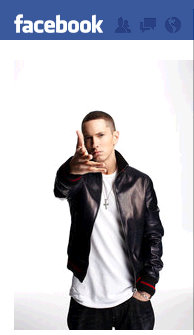 When it comes to who's most popular, you can get a lot of differing opinions depending on who you ask.
But one thing that can quickly settle the matter is some hard, fast numbers.  Like how many "fans" someone has following them on Facebook – that's a pretty good measurement tool.
So when it comes to "most popular" musicians, there is a new king on Facebook and his name is Eminem. Coming in with 30,374,000 and counting, Eminem's Facebook page took #1 spot from Lady Gaga who now sits at #2, with Michael Jackson at #3, followed by Rihanna and then Linkin Park to close out the top five.
via BallerStatus