Last week, Facebook rolled out a new functionality called Facebook Questions.
Facebook Questions functions as a recommendation engine, providing a social tool for feedback, opinions, and insight that leverages the 600 million plus users on Facebook.
The power of Facebook Questions is that:
it's social, powered by Facebook so that any question you post can reach people beyond your initial circle (i.e. friends and fans), and
it provides instant research for business and brands on anything from what are your favorite topics, to favorite drinks at restaurants, to what products are you looking forward to the most this coming holiday season.
But in order for brands to leverage Facebook Questions, you can have to first know how to use it.
Here's a quick, easy "how to" for using Facebook Questions to conduct research, get feed, and to build your very own recommendation engine for your business and brand:
1)  Use Facebook as your "Page"
In order to use Facebook Questions to gain feedback and insights for your business or brand, you have to switch to using Facebook as your page.
The easiest way to do this is to, once you are logged in to Facebook, click "Account" in the upper right hand corner of Facebook > then click "Use Facebook as Page".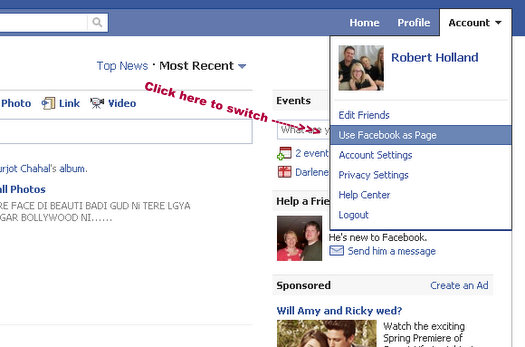 2)  Enable Facebook Questions
Now that you are using Facebook as your Page (business, brand, organization, etc…) you are ready to enable and start using Facebook Questions:
Go to > http://www.facebook.com/questions
And that's it…
3)  Create your first campaign
Now you are ready to create your first campaign to gain feedback from the fans of your Facebook Page.
Of course, as I'm sure you know, if you didn't switch to using Facebook as your page, then you'd be creating a "questions" campaign as your personal profile.
Now you simply type in your question, and add options for people to chose from.
Here's what it looks like:
Leveraging Facebook Questions:
Getting Facebook Questions up and rolling, and post questions as your "Page" (your business, brand, organization, etc…) is the easy part.
The power of Facebook Questions comes in the questions that you ask, and even more importantly, the choices that you offer.
If you ask the right questions, and provide the rights options as answers, you'll be able to gain insights and get recommendations from fans in ways that were not possible before.
And you can take your Question's campaign even one step further by putting your fans in control of adding even more options from which to chose from.
At the very bottom of the Questions form, you see the option to Allow anyone to add options.
This means, not only can your fans interact with, and respond to your question and options, but they can add their own – giving your business even more valuable feedback from your fans, users, customers, etc…
What do you think about Facebook Questions?
What are some ways you see your business or brand leveraging Facebook Questions?