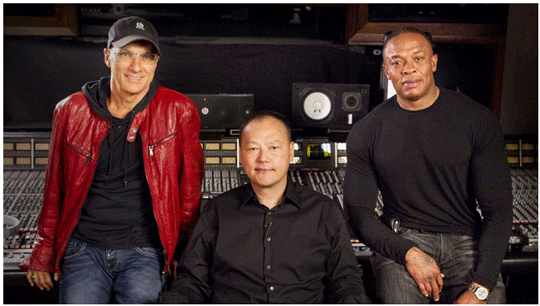 News has been breaking that HTC struck a deal to invest $300 million in the Beats by Dre company, making it a majority shareholder Beats Electronics.  The partnership is a reflection of HTC's ambition to elevate the audio quality delivered on mobile phones.  And with the integration of Beats by Dre audio technology, the mobile phone could become the next boom-box.
According to BGR, On Wednesday, HTC announced that it had invested $300 million in Beats by Dre, which will see its audio tech integrated into HTC phones moving forward. Now, rumor has it that HTC's first smartphone to include Beats technology could be the Vigor, a device that is said to resemble the HTC Thunderbolt on Verizon.
Beats by Dre on Amazon
And according to Billboard.biz, Interscope Geffen A&M Records chief Iovine said in a statement Wednesday, "The HTC and Beats by Dr. Dre partnership is an opportunity for two world-class companies to redefine the smart phone industry and define the future.
"For Beats by Dr. Dre, this represents a critical step in our continued mission to clean up the destruction of audio caused by the digital revolution; and reengineer how sound is delivered so that the consumer feels the music the way that the artist intended."
HTO Corporation CEO Peter Chou said, "Beats has found a unique way to harness popular culture in a manner that is unlike any other brand today. It's an exciting brand that has been built around providing something very special, and we believe our strategic partnership will provide customers with unbeatable sound on HTC phones. We obsess over every detail of a consumer's mobile experience and audio is a critical part of that experience."
Beats by Dre on Amazon
Jimmy Iovine, Beats co-founder, believes the future of music is in mobile phones.  It's quite possible the future of a lot of things are in mobile phones… but I digress.  Iovine believes the future of music consumption is the mobile phone, and the deal with Beats will allow people to experience music in high quality fashion.
"It's so important for the record industry that we make that transition to phones globally," he told Billboard.biz shortly after the deal was announced. "We need a global impression and a global service that is really high quality, and works."